This years Four Counties competition was hosted by Nottinghanshire and held at Sherwood Forest GC.
Despite the very wet conditions (the course was covered by snow on the Bank Holiday and further heavy rain fell during the tournament itself) the event went ahead on schedule. That this was possible is entirely due to the outstanding commitment and hard work of the Sherwood Forest green staff to whom we give many thanks.
After the opening ceremony on Tuesday followed by practise rounds by all the teams, the first competitive matches were played on Wednesday morning. Heavy early morning rain which made conditions difficult. Lancashire won their opening match 5 – 2 against S & H and the Notts boys started well with a 4 ½ - 2 ½ win over Cheshire. In the afternoon, the greens staff worked above and beyond their call of duty as the heavens really opened leaving many greens under water. Squeegees where out on every hole to enable the players to carry on playing. In the afternoon matches Notts lost 4 ½ – 2 ½ to Lancashire in a match that was closer than the score suggests, while S & H beat Cheshire by the same score.
At the end of the first day Lancashire were unbeaten while only half a point separated Notts in second place from S & H.
In the evening all players, officials and guests attended the reception dinner and enjoyed the fantastic food Sherwood's Chef John Pugh had cooked for everyone. After welcome speeches by Notts President Bob Ward and Sherwood Forest's captain Milind Tadpatrickar, the President of Lancashire, Michael Laye announced that the Four Counties Tournament will be played next year at Lancaster Golf Club.
Thursday morning saw sun shining at long last, which was a relief to everyone. The first match between good rivals Notts and Shropshire and Herefordshire was a very tight match which saw S & H win 4 – 3 to secure second place after Lancashire had convincingly beaten Cheshire 6 – 1 to be unbeaten in the tournament and take the winner's trophy.
Despite the weather it was another successful event played in great competitive spirit by all the young players. A massive thank you to Sherwood Forest Golf Club who went above and beyond in difficult weather conditions. Thank you to Tad, Sherwood's Captain who attended the event on all three days, and to all the staff and members for their support and hospitality and for whom nothing was too much trouble.
Click here for the final table and individual match results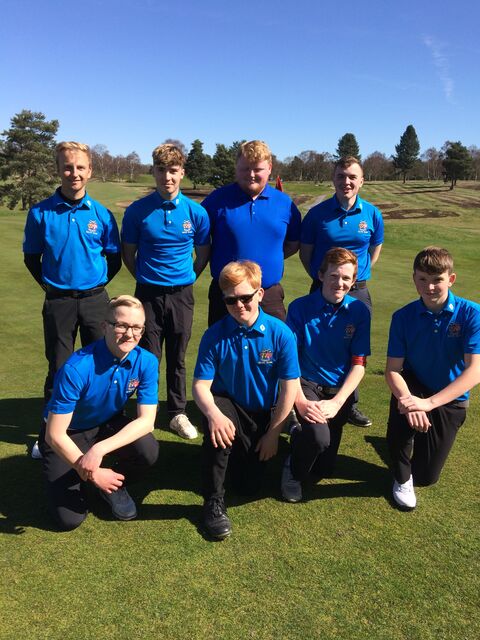 Standing L – R Tom Matthews (Captain), Cameron Probert, Owen Reynolds, Dani Hoof
Kneeling L – R Euan Muttitt-Jones, Daniel Haycocks, Rory McDonald O'Brien, Morgan Radziejowski